Visit almodôvar, portugal: a small town in the alentejo
Written by delinete-rocha on Sept. 3, 2021, 3:35 p.m.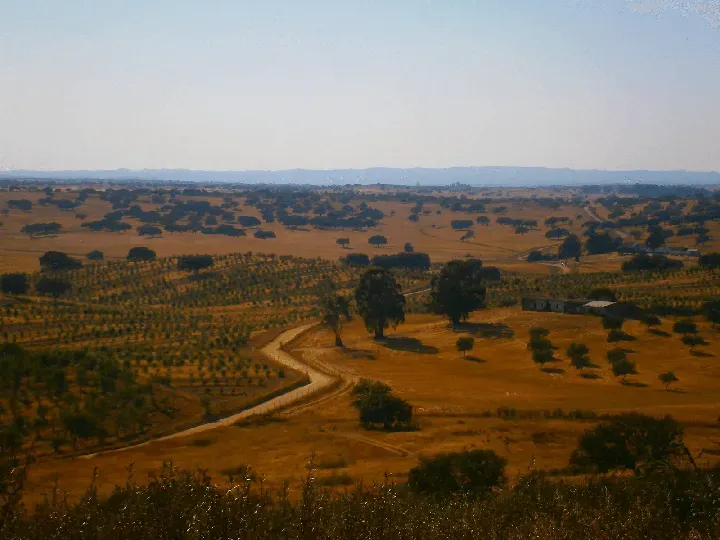 Visit Almodôvar, Portugal: a charming medieval town (37.511762, -8.060513) in the Alentejo, near Faro. The small town is just 80 km north of the Portuguese south coast capital city, and the airport.
The town's easy-going people, peculiar landscapes and ancient roots give it its enormous appeal. On top of that, there is the region's tempting, wholesome food and world class wine. Just the icing on the cake.
Visit Almodôvar, Portugal, for its People
In their natural, self-deprecating manner, locals often joke about having three speeds: slow, very slow and stationary.
As well as for their sense of humor, people from Almodôvar can impress for their generosity and for speaking their minds in a very particular way. Therefore, be prepared for straight, honest answers; but also, to be given lengthy directions and to be guided to your destination anyway. Just the perfect place to unwind.
Visit Almodôvar, Portugal, for its Landscape
The countryside surrounding Almodôvar is best appreciated from above, looking over the gentle rolling hills for as far as the eye can see.
The town's favorite and most romantic viewpoint is Santo Amaro hill. From the top of this, you can look down to lower hills, covered in golden summer fields or vibrant tapestry of colored pasture brought by spring. Embedded in this hills are the beautiful Cork trees, the Alentejo utmost landscape icon.
You might also want to walk all the way up to Monte Clerigo dam. Doing this, you will walk a narrow, olive tree and stone wall sided road. You might, instinctively, adjust your speed to the bell-ringing of grazing sheep or a flock crossing the path; and, without trying, soak up the serenity of these old ways of life. Once at the top, take a dip in the dam's calm waters and relish the peaceful setting.
Visit Almodôvar, Portugal, for its Food
People from Alentejo are proud of their cuisine and it's obvious why. Their unique Mediterranean diet is both delicious and sustainable.
The Alentejo black pig, a domesticated descendant of the Iberian or Roman line of southern wild boar, is a free-range beast that likes to feed himself on acorns. Both the fresh meat and the associated charcuterie have a characteristic, intense flavour and juicy, oily texture.
Whether purchased in the town's market hall, directly from a farmer or from an artisan delicatessen, be sure to enjoy every bite.
If you visit a restaurant, you will have a chance to sample the traditional, wholesome local fare. A must-try dish is 'Secretos', both the name of the cut of meat and of the dish.
To go with your meal, you will be able to choose a local wine, as Alentejo is home to many of Portugal's famous vineyards and some of the World's best wine. Local brands include the multi-awarded, intensely fruity and complex Malhadinha Nova and Herdade dos Grous. Then, to finish your meal, try the traditional medronho firewater after your espresso.
Alternatively, pack a local picnic with plenty of sheep and goats' cheese and Alentejo black pig smoked sausages; a good, crusty, wood-oven baked bread with tomato and olive salad, generously drizzled with olive oil. Then, pick your regional wine and you are good to go.
Visit Almodôvar, Portugal, for its roots and history
Between its 5,000 year-old inscribed grave stones and its medieval ruins, Almodôvar exhales its rich past. Breath it in while meandering the town's narrow streets or watching the gentle pace of daily life from one of the cafe terraces in the main square. Stroll around the market hall or join the locals in their festivities; the Medieval Market, the Arts and Culture Fair and the local parishes' popular fetes happen throughout the summer.
To delve deeper into the town's history, visit Saint Ildefonso's church, in the heart of Almodôvar; it was built in the Middle Ages and reshaped in a variety of architectural styles throughout its centuries of existence. Stop too at the Southwest Writing Museum. When examining the Iron Age carved tombstones, look for signs of Phoenician or Celtic influences and speculate about what might have been so important that it was recorded forever, engraved in stones. Wonder about the similarities between Almodôvar's ancient people and those living in these same hills today. The museum is a two-minute walk from Saint Ildefonso's church, at 31 Relogio street.
Almodôvar is part of the Iberian Pyrite Belt, where mining activity started thousands of years ago. The extraction of zinc and copper remains one of the main pillars of the local economy, supporting over 500 families, as well as enabling locals to remain in the area and attracting new inhabitants. A visit to the neighbouring Sao Domingos mine, or the modern Neves-Corvo mine, helps to gain an understanding of the town's identity.
To finish, whenever you visit Almodôvar, Portugal, share with us your experiences and views. We look forward to hearing all about it.
Published on Sept. 3, 2021, 3:35 p.m. by delinete-rocha
---
Create an accout
or
login
to leave comments!