Portuguese chouriço is flaming good!
Written by delinete-rocha on Sept. 3, 2021, 3:37 p.m.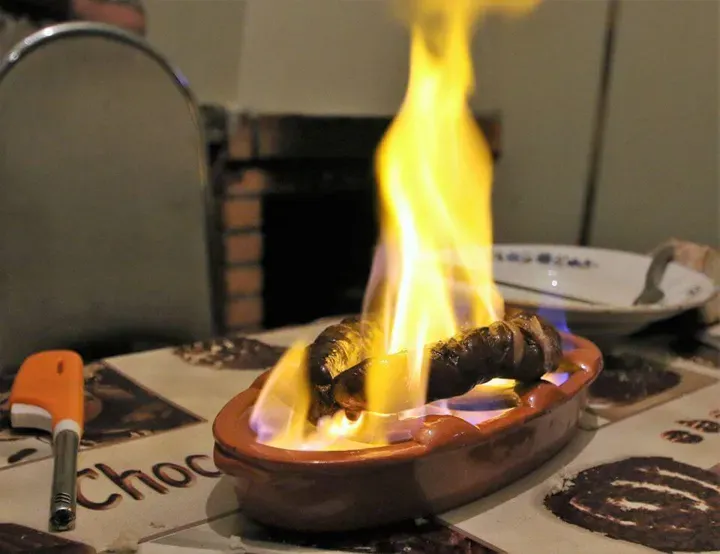 You might be familiar with a slightly different smoked sausage, the one from our neighbours across the border, Chorizo. The Portuguese recipe, however, is Chouriço and we pronounce sho-ree-soo.
Portuguese Chouriço: the (not so) secret ingredient
Chouriço is a traditional delicacy and widely popular among the Portuguese, which goes well as a starter or snack and with wine or beer.
This smoked sausage it also the special ingredient in some classic recipes. For instance, there are the hearty broad bean dish favas com chouriço; as well as the much loved Collard greens soup caldo verde; and, the street food bread pão com chouriço.
Pão com chouriço, for instance, is a source of national craving. This is baked and sold in dedicated food trucks and stalls. The irresistible aroma escapes from the oven and spreads out to attract even the most distracted noses.
Portuguese Chouriço is not all the same
The recipe for chouriço varies a little bit from one region to another. However, the basic ingredients are usually a rich mixture of pork meat seasoned with garlic, pepper, paprika and salt.
Some chouriço recipes take blood, too, in which case the darker colour is the give-away. The ingredients are combined and then marinated for a few days in wine infused with cloves and bay leaves. The mixture is stuffed and shaped into U-shaped sausages, about 30 to 40 cm long, and then smoked for several days before passing the test of fire.
The Portuguese Chouriço test of fire
The delicacy is placed in a clay grill dish, sprayed with the firewater aguardente (or ethyl alcohol) and set alight to be cooked in the flames. As the Chouriço catches fire, it provides an exciting entertainment, too. After a few minutes, the fire dies down, leaving a crispy and dark skinned crust round a tender and juicy meat. Bravo!
Published on Sept. 3, 2021, 3:37 p.m. by delinete-rocha
---
Create an accout
or
login
to leave comments!