Buying rural property and working remotely in central Portugal - part I
Written by Imelda on April 10, 2022, 11 p.m.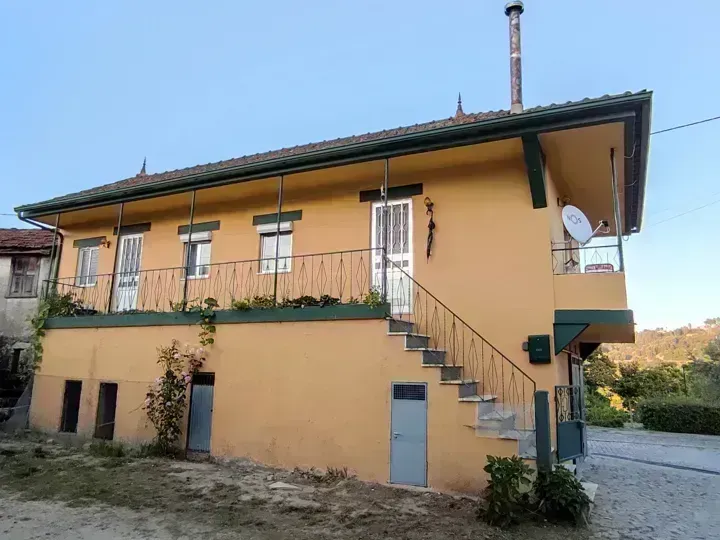 As a new PhD in Sweden, I always imagined that my PhD experience would be one of full of interaction, research opportunities, growth and travelling. I had dreamt about this since when I can remember and this had been my ultimate goal. It was finally happening! I was a few months into my PhD program when my perception about what my PhD would be like changed rapidly and unexpectedly.
How the pandemic affected me as a new doctoral student?
On my way back from a short skiing vacation in Poland, I received an email from the University's Directorate that the whole University was expected to work from home as an attempt to prevent the growing infection rate from a novel virus, Covid-19. It is interesting to think that this email has reached each one of us at a moment or another and each one of us has had that feeling of disbelief which slowly becomes a shock of how suddenly your whole prospect in life changed. Even in little things, such as the steps you can make during the day. Starting from the day of the email, I could see in the graph of my digital watch how I was decreasing the total number of my steps each day. It felt like the world slowed down till one day that I had only 200 steps in my watch… that day it felt like the world died altogether.
And that's when it hit me! Yes, things were much different from what I expected them to be and from what I had dreamt of but up until now I had equaled 'different' with 'worse' and this was not necessarily the case. We were sent home to work, but with that, we were given the liberty to choose where our home would be. This was extraordinary and a one-of-a-kind opportunity. My boyfriend and I, both working in research in Sweden, were one of those very fortunate people that we could work everywhere. We were the excellent pandemic nomads. While my dream for an exuberant PhD experience was slipping away, this was the moment to fulfill maybe another dream that had for long lingered with my boyfriend: bringing life to abandoned rural areas and reconstructing old houses. It felt perfect. While industrialism has driven people to abandon villages and crowd out in big urban areas, rural villages have died out. In the new era of Internet and Covid, it was time to remedy that.
How the adventure of buying rural property in Portugal started?
We had often ventured the idea of buying an old home that needs reconstruction but somehow that idea never realized. We looked as some old houses in South Sweden suburbs and it never clicked or felt right. Maybe because Sweden never felt like home to us. We both came to Sweden for our PhDs and we were both from South Europe. While Sweden feels like the perfect security bubble, our hearts follow the sun. And the Sun, more often than not, brings you to Portugal, my boyfriend's homeland! Once the thought process brought us to this decision, the puzzle was slowly starting to form out and we were excited about it!
Looking for the property we always dreamt about
Buying a house in Portugal as a foreigner is not a straightforward process. It takes some research, filtering and patience. To begin with, you must go through Websites like Idealista. And that is not an easy job. Unlike Swedish websites for Real Estate that try to capture in photos all the important details of a house for sale, Portuguese websites seem to not give so much thought to showing the best out of their properties. On the contrary, pictures are very often of low quality, capturing unnecessary details such as several pictures of the same spot and leaving out important information such as the view from the house.
However, patience goes a long way, especially when combined with family support. It was actually the parents of my boyfriend that had to dig out these gems and filter out houses that were not suitable for our purposes. After a somehow detailed screening process, we finally found our inspiring, little place. We were so excited about it and looking forward to start this new adventure.
How to buy a rural property in Portugal as a foreigner
To buy a place in Portugal, I needed to apply for a fiscal number at Department of Finances. As a foreigner, you need a Portuguese citizen and inhabitant to testify and guarantee your identity in the Department of Finances. This is merely a bureaucracy but an important step to be able to legally purchase a house in Portugal. In my case, my boyfriend's father decided to testify for me and soon after that, I got my fiscal number in Portugal. We hired an office of Notary which prepared the paper work for us, such as making sure that the house does not have any debts in terms of water and electricity or other taxes, paying property tax for the new purchase, including the land in the property contract and completing the transactions.
Once the legal work was done, we had a sense of belonging. The place we found was in par with everything we had wanted. It was a place in a rural area, but not too far from urban amenities, such as schools, hospitals, supermarkets, and restaurants. It was a two bedroom as part of a two-store house, with enough space for storage, garage and a little land nearby.
Can we settle in in our house in the countryside while working full time?
It needed some work to be able to live there comfortably but it was still habitable. Thus, we could still do our work every day, in front of our computers but in the afternoon and weekends we could renovate and give shape to our little hub in the suburb.
The first step we needed to undertake once the house was ours was to reconnect the water and electricity from the municipality. Several days passed before these utilities were reconnected to the house, days during which we surfed the web to find cheap but good quality second hand furniture. Differently from our experience with furnishing our home in Sweden with second hand furniture, the online market for second hand in central Portugal was rather scarce both in terms of quality and price. We managed to find our sofa bed through Facebook Market place, however not much else came out of there. So, we thought it would be better to change strategy. Talking to people is key in Portugal and just by conversing with a furniture repair shop owner, we found our queen size bed which was perfectly functional and at a very good price, stored on the owner's garage, waiting for us.
A fridge, a bed, a sofa bed, a working table and a patio table were all we needed to move in to our first home in rural Portugal, while working full time in our respective jobs in Sweden! I remember distinctively that the chair I was sitting while working on the patio table fell apart a few days after we moved in but… no big deal, we had hammers and nails, we fixed that. Going from worrying about having just 200 steps a day, a world that is not moving anymore to actually doing something meaningful beyond our computers, this was a dream coming true!
Moving in: first days at our new place in rural Portugal
Our first days at our new home were funny in perspective, but tough in reality. We were facing all sorts of things that you don't see when you are making the decision to purchase the house. After deep cleaning our house, a strong smell started disturbing us in the corridor and we could not find out where it came from. Later, the gas installation in the kitchen which is used to cook and warm water started to leak, scaring me to my core, since I don't have any experience with working with gas, while it is widely popular in Portugal. A few days later, the shower cabin started to leak water and water's temperature in the shower was almost impossible to regulate, it was either burning or very cold. When the weather became colder, we found out that our chimney released smoke inside our home. And on top of everything, unintentionally we were taking water from a private property, which caused a little confrontation with one of our neighbors, Paula. We can say, things did not start off easy but we were close to family, in beautiful Portugal trying to make this endeavor succeed in our way, so we were not disheartened. Taking things one at a time helped avoiding feeling overwhelmed and being kind helped remedy relations that maybe did not start off as they should.
One thing Portugal teaches you is to be patient (and meanwhile maybe enjoy a Galão (Traditional coffee with milk)!
Things can be very slow but I will summarize them so I do not bore you!
Old houses, new solutions: our first issues with the house
We started off fixing our place little by little. First things first, we fixed the leakage problem with our gas installation and that helped with the water tempering problem as well. We needed some home appliances to make our lives easier but since second hand did not work very well, we had to get creative. After carefully considering our options for not spending a fortune, we landed at a store near Porto which sold slightly damaged goods at high discounts. Sounds like a good deal, right? We thought so too so we barged into it and we bought everything we needed.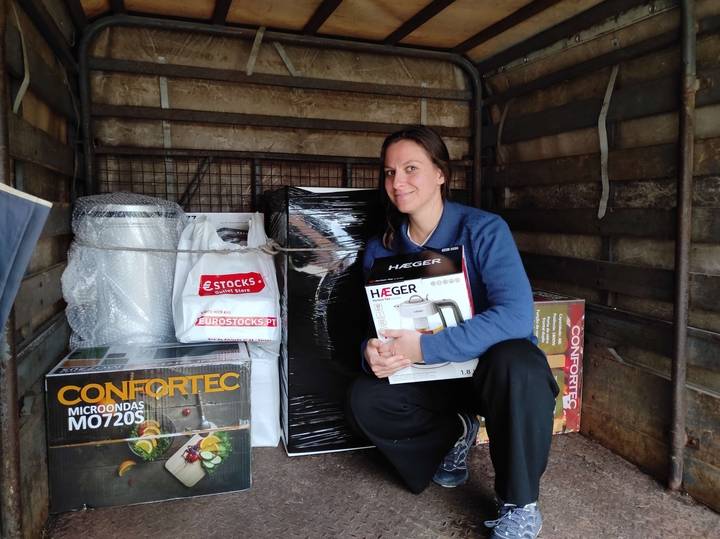 Challenges of working remotely in rural areas: how we sorted ourselves out?
I guess, by now you were wondering how working on patio furniture was going. Well… let's just say that with gas leakage out of the way, warm water at our availability and a water kettle in the kitchen, it was about time to think about investing in real office furniture because our backs were taking a toll on it. Sweden is good for at least one thing: IKEA! And IKEA is genial for team building since you have to assemble everything. It made our afternoons fun and we discovered things about each other that we did not know. For example:
It's looking more and more like an oasis to us. But it was not everything straightforward. Sometimes metric system fails you (let's put it this way :D) and that is what happened with our wardrobe. It was a few centimeters bigger than the space we had! What a bummer! But there are just a few things unfixable in this world and a few centimeters more in a furniture is not one of them. Just a little bit more trouble. What we decided to do is to actually put this piece of furniture on the other side of the room, where the radiator was and remove the radiator instead. While this was something we did not plan to do initially, it actually worked out for the best, because with the radiator out of the way, the wardrobe fits better and the working station right next to it sits by the window! I'd call this a win-win situation!
Starting gardening (and a little more) as a newbie in rural Portugal
With another milestone achieved, we were starting to think that maybe it was time to start using our land as it was the time of the year where you can plant and you see things growing. We decided to go to a Monday's village market, where people living in the village sell their products each Monday. A real-life marketplace! While we were going around to each stand, we were buying plants that are easy to plant and that grow within a few months. So, we ventured onions, peppers, tomatoes and lettuce. As we were leaving, satisfied with our purchase, a little choir of singing captured our ears and we saw these beautiful, a few days old ducklings that were the most adorable little things. We had pondered the idea of getting some chickens and building a little chicken coup in the basement of our house, but when we saw the little yellow ducklings, we understood it was a done deal. The chicken coup had to be improvised and a lot of creative work went into that. My boyfriend came up with the idea of installing a net around two miniature storage rooms in the basement, where they could sleep inside and go out the small doors during the day. The place was small, but it was enough for two little ducklings, one young chicken and one mature chicken. And the best thing about it was that it was right below our verandah.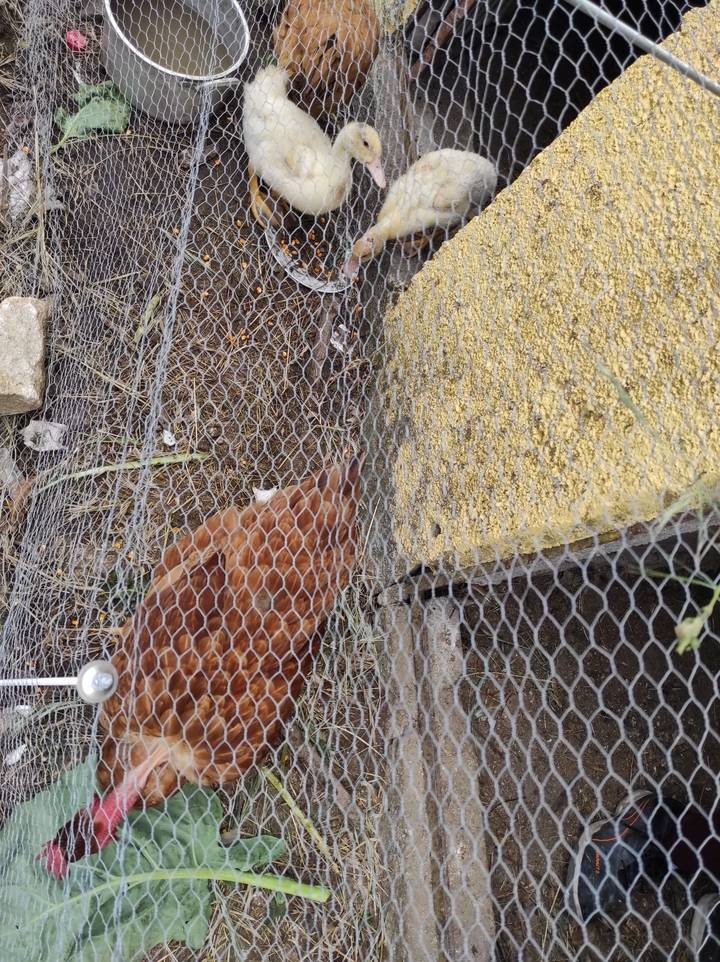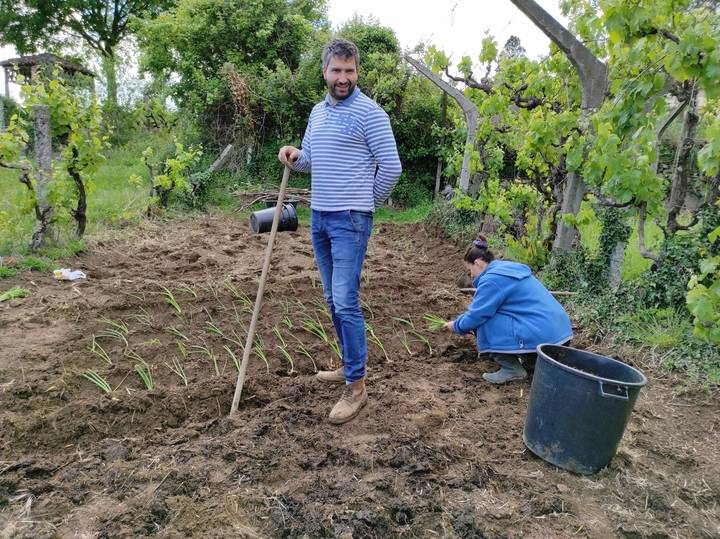 Experiments: Can you mix chicken and ducks together?
In the beginning, the chickens and the ducklings were not the best of friends, in fact we think the chickens did not realize that the ducklings were not food, since they were pecking them all the time. But with time, as the ducklings became stronger, they started to convivia. The chickens and the ducks made our home feel even more cozy, since we became emotionally attached to them. Every morning, even before washing my face, I'd just run out of the home and they would be waiting for me by the fence. They'd get very happy as they saw their breakfast getting ready and they loved the fresh water I was fetching for them from the village's water fountain. And the cherry on top: every morning I would find a fresh egg!! It felt like a treasure hunt! It was just the best feeling! The chickens were happy, we were happy! Having the chickens and the ducks helped also with recycling our compost. All the leftovers were highly appreciated by our little friends. Soon after, the whole neighborhood started coming over to our chicken coup and we'd spend some time in the afternoon feeding them, taking them for a walk and see them grow.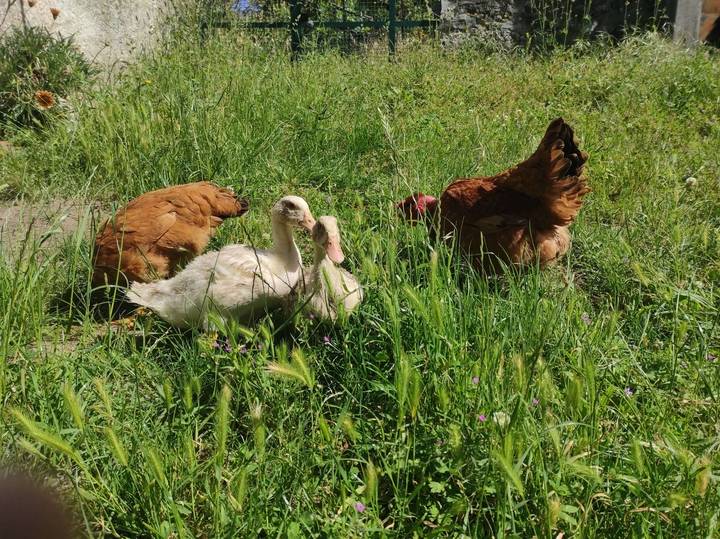 How to (or not) renovate old doors?
Continues on part II
Published on April 10, 2022, 11 p.m. by Imelda
---
Create an accout
or
login
to leave comments!