Casa Fareja
5.0 average review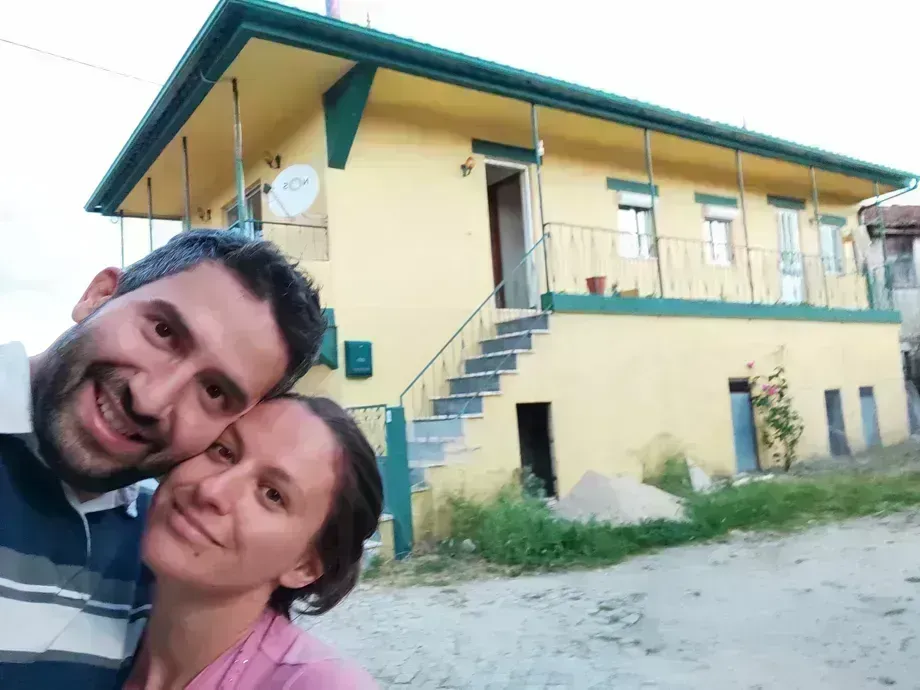 €750/month | €300/Week | €65/day
Very good
4 Guests
---
Expenses: Not included
2 Bedroom(s)
1.0 Bathroom(s)
Summary
This residential house is suitable for couples or families that want to enjoy the perks of living in peaceful, airy areas without losing access to urban amenities. Located in a lovely village, surrounded by evergreen hills, 2km from Castro Daire and with easy access to schools, medical centres, supermarkets and restaurants (within two kilometres). Perfect for exploring the region and nearby cities, since it is situated within 1 km with the highway.
---
Facilities
The house is furnished in such way that it is most comfortable for people working remotely and want to enjoy a country side vibe. The house is equipped with two air conditioners, respectively in the living room and main bedroom. Further, the fireplace is connected to a water container which circulates throughout the home, warming the ambient. There are two fully equipped working stations, with ergonomic chairs and desks. The kitchen is fully equipped, with a big fridge, new microwave and water boiler. The stove and oven works with gas and the water in the kitchen is warmed with gas. There is a washing machine and a dryer at the guests availability. The balcony is equipped with chairs and installed table for leisure time. Further, there is place in the veranda to plant herbs for cooking, without needing vases. The house is equipped with a newly renovated garage, which can be used for exercising, storing bikes and cars. Lastly, 500m from the house, there is a small land belonging to the house. There are fruit trees planted in the land, such as lime, oranges, cherries. There is space to plant seasonal vegetables.
---
Location and surroundings
The house is located in the heart of the village, in front of the church. Surrounded by beautiful stone houses and friendly neighbors. There is outside parking, as well as a private garage, newly renovated.
---
Additional conditions
The monthly price of 750 Eur/month is for stays 3 months and longer.For shorter stays (less than 3 months), our pricing breakdown is as below:June-September - 900 Eur/month;October-December- 750 Eur/month;January-March - 700 Eur/month;April-May - 800 Eur/month;
---
Photos
---
Location
---
Calendar
November 2023
Mon
Tue
Wed
Thu
Fri
Sat
Sun

1

2

3

4

5

6

7

8

9

10

11

12

13

14

15

16

17

18

19

20

21

22

23

24

25

26

27

28

29
30
---
5.0
---
Review by dbfranzosi on May 25, 2023, 10:14 a.m.:
Staying at Fareja is an amazing experience! You can hike or bike through the Caminho de Santiago and several other paths, you can go to the fluvial beach and also to Paivô, the very nice river nearby, to swim and relax. Staying at the house is relaxing, with a nice view to the hills, and very comfortable rooms. I strongly recommend a visit.
Dear Sergio, Apologies it's taken so long to write our review... Our stay in Farejas was a happy and comfortable one, your property was a pleasant surprise, neat, clean and had the necessary to make ones stay comfortable and feel at home. As both my husband and I work online we found your work desks and study chairs AMAZING (am determined to buy same for my home office)...the internet was unlimited, consistent and super fast so made our working stay an absolute breeze. We also enjoyed many cooking nights at your place. The aircons and fire place helped when the coller days came. Location is great as its so close to town, we were able to walk through the quaint village and go get our daily groceries or have lunch at the "kids place" (Taska Chick) run by a lovely young couple who offer fantastic food. Lastly but not least, we were appreciative of yours and your lovely parents prompt assistance when the odd thing was needed, the neighbours were kind and welcoming, and we had a lovely get together in the village just before our departure. In all, Casa Fareja, Castro Daire was a memorable stay, we will be back and shall recommend your accommodation to friends and family. Kindest Regards, Ron and Paula Brink (South Africa)
Review by drawitz on Dec. 18, 2021, 5:57 p.m.:
We stayed at Imelda and Sergio's Casa Fareja for 6 enjoyable weeks. The house is comfortable and felt like home to us, it is equipped with everything that we needed. The location is great, close to the town with all of it's amenities but in a village atmosphere. The natural surroundings are beautiful and we had many wonderful walks in the forest and river-banks. Imelda and Sergio are great hosts, outgoing and warm people with lots of advice about life here, and the neighbors are welcoming. We will definitely return next time we will be in the area.
---
---