Canto do Paraíso
No reviews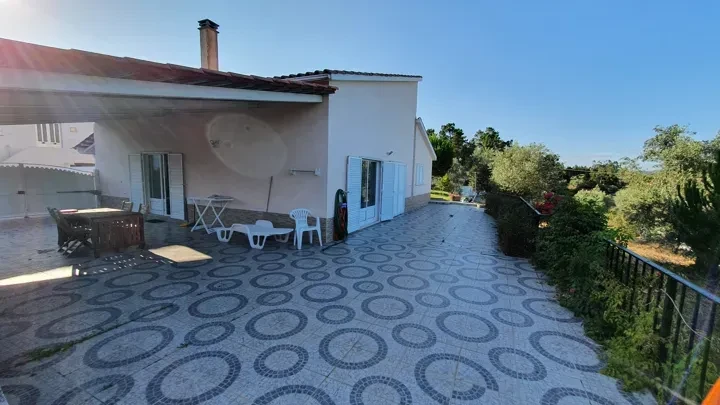 €1500/month | €450/Week | €70/day
Very good
4 Guests
---
Expenses: included
1 Bedroom(s)
1.0 Bathroom(s)
Summary
Canto do Paraíso is a cozy and welcome local accomodation in an old village near Ourém and Fátima. Here you're in the middle of nature, surrounded by nothing. Please enjoy peace and relax
---
Facilities
In Canto do Paraíso you will find a little of everything.The house consists of a large living room in open space, with an office corner and a kitchen corner.We have a fireplace and air conditioning.The bedroom has a comfortable double bed and a large window to the street, where they can enjoy the wonderful rays of the sun at sunrise.The bathroom is the "queen" room as it has a large bathtub with Jacuzzi, and a shower cabin with sauna.Here we have a large covered terrace where you can store your car and have great meals.We also have a nice lawned garden and an area of land with olive trees and fruit trees.Outside we also have a barbecue area for meals.The kitchen has a stove, coffee machine, microwave, toaster, kettle and fridge.In other words, there is a little bit of everything for your stays.The house also has many games, books and bicycles at your disposal.Come stay at Canto do Paraíso.
---
Location and surroundings
Canto do Paraíso is located in an old village that nowadays has practically no population.A short drive away is the village of Freixianda (nearest) where you have most facilities: cafes, supermarket, pharmacy, ATM, among others.A little further away are the cities of Ourém and Tomar.Nearby is the river beach of Agroal, well known for its natural water source, as well as for its green landscape.In terms of tourist attractions, we have the Castle of Ourém, the Sanctuary of Fátima, the Convent of Christ in Tomar, as well as several other attractions.
---
Additional conditions
Canto do Paraíso is within a 15-minute drive from Caxarias, where you can find several restaurants as well as take-aways for your meals.In Ourém there is also a cinema theater offering cultural music, theater and exhibitions. In Ourém there is also some night life.We charge an aditional 25€ fee per cleaning. We do cleanings every week.
---
Photos
---
Location
---
Calendar
November 2023
Mon
Tue
Wed
Thu
Fri
Sat
Sun

1

2

3

4

5

6

7

8

9

10

11

12

13

14

15

16

17

18

19

20

21

22

23

24

25

26

27

28

29
30