Casa das Marioilas, 5 min by car from Praia Verde, Castro Marim - Eastern Algarve
5.0 average review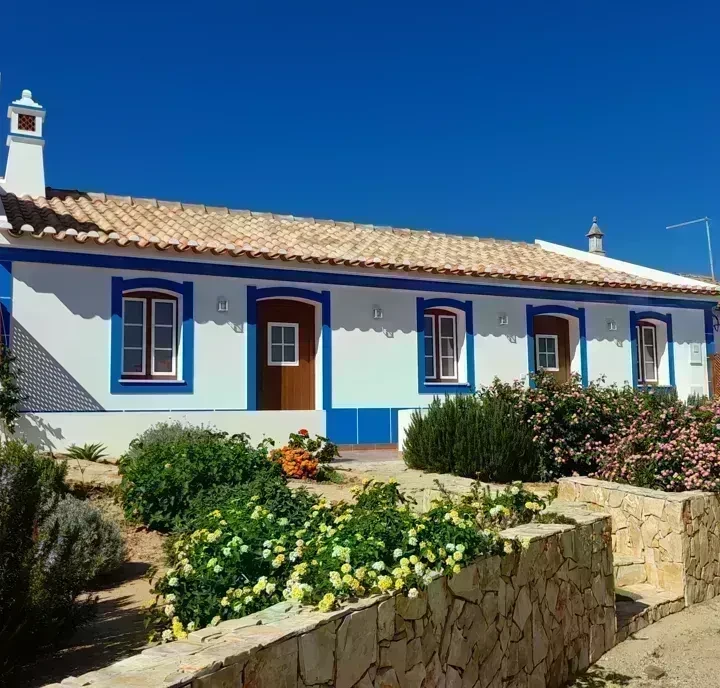 €1200/month | €0/Week | €0/day
Very good
4 Guests
---
Expenses: Not included
2 Bedroom(s)
2.0 Bathroom(s)
Summary
This house is a lovely typical Algarve house, newly built, with the tradicional white and blue facades, wooden ceilings, large sunny patios and a beautiful chimney. It's located on a private property, with several orchards of fig, almond, olive and carob trees.It accommodates 4 people and consists of 1 large open plan with living room/dining room/modern kitchen full equipped, plus 2 bedrooms and 2 bathrooms, 1 ensuite, with walk-in shower. Air conditioning/heating and good internet wi-fi speed. Outside, 2 large patios (East and West), with table, cushioned and reclining armchairs and parasol, to enjoy the sunshine in the morning or in the afternoon. Mediterranean garden with native and aromatics plants. Private, free and shaded parking.
---
Facilities
Private Car Parking; Free Bikes Available (2); Air Conditioning/Heating; Good Speed Internet Wifi; TV with International Channels; Books Available; Microwave and Oven; Ceramic Glass Plate; Extractor Fan; Fridge and Freezer, Citrus Juicer; Coffee Machine; Electric Kettle; Washing Machine; Dishwasher Machine; Linen & Towels; Dishes & Kitchen Utensils; Outdoor Table & Chairs; Relaxing Armchairs & Large Parasol.
---
Location and surroundings
Our house is quietly situated on a private and large estate, with many native plants from the Eastern Algarve, close to the typical towns of Castro Marim (5 km) or Cacela Velha (10 km). The famous golf courses of Castro Marim (6 km), Monte Rei (7 km) or Quinta do Vale (9 km) are close by and the sea with large and beautiful beaches is very close - Praia Verde (6 km), Praia da Alagoa (7 km), Praia da Manta Rota (8 km) or Praia de Cacela Velha (10 km).Castro Marim is the nearest town, medieval, with basics amenities, but with a rich heritage and a large marsh area, perfect spot for bird-watching. Vila Real de Santo António, 10 min by car, is a beautiful town, full of shops and esplanades, Marina, Guadiana River and a nice architectural patrimony. More touristic and livelier, with its famous Casino, Monte Gordo is about 15 min. And Tavira with its great cultural wealth deserves a careful visit.
---
Additional conditions
Booking price * Per month * November to March: €1200; Abril, May & October: €1500; June & September: €1800; July & August: €2100. Expenses not included in monthly price. Security Deposit: €300. Minimum stay: 1 month. Pets aren't allowed.
---
Photos
---
Location
---
Calendar
November 2023
Mon
Tue
Wed
Thu
Fri
Sat
Sun

1

2

3

4

5

6

7

8

9

10

11

12

13

14

15

16

17

18

19

20

21

22

23

24

25

26

27

28

29
30
---
5.0
---
Review by moirab on Nov. 17, 2023, 4:19 p.m.:
Casa das Marioilas is a lovely house, and very well set up for medium to longer term stays. I loved the feel of being in the countryside, yet have the modern conveniences, such as an air condition when needed. Maria is a gracious and very helpful host. I was met at the bus station in Vila Real de Santo António, and Maria suggested stopping at the grocery store on the way to the house. Great suggestion, and much appreciated. The main supermarket in Castro Marin is well stocked. Maria's home looks exactly as advertised, and was spotlessly clean. The home is very comfortable and walks in the area were very enjoyable. Despite the hot wether, i did a lot of exploring and hiking (the castle, the fort, the salt pans, the dunes etc), all fabulous. During the latter part of my stay the evenings were cooler, and sitting outside enjoying the cool breeze and the views was amazing. Overall the house is terrific. The mattress was a little harder than i like - but that is a personal preference only. I didnt have a car initially, and i noted that Uber can be a challenge but taxis are available. Maria helped me a couple of times to get a taxi to pick me up. Saving the GPS coordinates on your phone, makes getting back home by taxis/Uber a breeze. With the car i visited the beach, and was surprised how quickly i got there. Overall a very enjoyable stay.
Review by adel.haider on Jan. 15, 2023, 11:37 a.m.:
In my opinion, the place you call home during a vacation is just as important as your primary home. As such, the choice should take into account one additional aspect, which is the personality of the hosts that welcome you into their home for the duration of your holiday. In this regard, Maria stands out in ways that no other host has ever done in my (lengthy) experience of holiday home rentals. During my stay in her homes (yes, homes - I had the privilege of spending several weeks time different properties that she has) Maria's attention to detail was second-to-none. I felt warmly welcomed throughout my stay, so much so that I've taken on board some of her tips to make my own home as welcoming as her homes are. Maria (and her husband) even took the time to come and visit me multiple times (at my request) to spend some quality time chatting and enjoying a meal together. In addition to all of the above (as if it were not enough), Maria's knowledge of the Algarve is so vast that she is now my go-to person with regards to any topics related to the entire Algarve - to put this into perspective, I'm Portuguese and yet have only 1/5 of the knowledge (at best) that she does with regards to the southern region. To this day, I still remain in contact with Maria and will continue to do so for many years to come. In conclusion, I strongly recommend that you book your next holiday home with Maria. In doing so, be clear in what you're expecting / looking for as this ensures that Maria can advise you in the best way possible. Thank-you Maria (and Luciano of course) for your kindness, honesty, friendliness, empathy and advise - such warm souls are unique in this day-and-age. You truly are more than anyone can ask for from a host. I wish you all the best and will definitely book your homes again in the future.
---
---